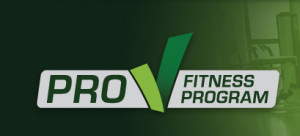 The ProFitness Program
As advances in health care and the fitness industries are teaching us, we are discovering that physical activity and structured exercise is one of the best preventative health tools at our disposal.  We at Spartanburg Athletic Club want to ensure all members start their health-related fitness process accurately and safely. That is why we give all new members the opportunity to complete an initial consultation. During this 90-minute fitness evaluation, you and your fitness consultant will discuss your goals, and he/she will help you develop a plan to reach those goals. Helping you to make your membership here at Spartanburg Athletic Club be the success that you envisioned it to be.
Follow-up consultations every 90 days are highly recommended for results comparison, exercise prescription adjustments and education. This helps many of our members stay on track with the goals they set when joining.
Remember true health is not just the absence of disease but a journey to health optimization through appropriate physical activity and structured exercise.
The Annual Consultation Program Includes:  
In depth pre activity screening to ensure exercise safety.
Pre-exercise physiological measures such as:
Resting blood pressure, pulse and estimated maximal heart rate for sub maximal testing and training
Body composition analysis that covers multiple approaches to ensure the best understanding of what goals are appropriate for the individual.
Analysis of exercise and activity that is appropriate for daily life both at the gym and for activities of daily living
Cardiovascular assessment that looks at both central health (your heart) and peripheral health (how well your muscles are utilizing oxygen and fuel).
Musculoskeletal assessment that looks at endurance, strength and power as well as functional range of motion and balance.
Exercise recommendations based on multiple scenarios that fits appropriately into your life.
Education around such topics as chronic condition management, appropriate health-related fitness goals, long term health planning, better understanding of fitness research, fitness versus fatness and more.
3 follow up assessments every 90 days to ensure that you are being supported and progressing. You will receive automatic email or text appointment reminders 48 hours in advance of each appointment, as well as a confirmation call from your consultant.
Quote from Mike Lopez:
ISSA Certified Personal Trainer, MOSSA Group Core Certified Instructor
"My fitness journey began about 4 years ago right at SAC. I was a member who did just about every class the gym had to offer 6 days a week. I also weighed close to 400 pounds doing it. Over the course of about a year, I lost about 100 pounds and began teaching Group Core. After that, I went on to become an ISSA certified personal trainer. Now I'm about to graduate in May with my bachelor's of science in exercise and sports science with a strength and conditioning concentration from USC Upstate. Fitness isn't just a job for me, it's personal. I love to help people who want to make that change. People who want to make that first step but aren't sure where they are or how to get to where they want to go in respect to their fitness goals. That's why I do fitness assessments here at SAC. I sit down one on one with our members, talk to them about their goals, find out where they are exactly, and then give them the resources and knowledge to start.  SAC is a great place to start your own fitness journey. Come see me for a fitness assessment today and let's get it started now!" -2016