Why should you do Yoga?
That's a fair question, one that can be addressed in two ways, looking first at the reasons you should do yoga.  And secondly, the reasons why you are not doing yoga.
The benefits of yoga training are many.  From a physical perspective, yoga will:
lead to improved flexibility
better balance
stronger posture
increased range of motion
overall improved strength
Additionally the poses and sequences in a yoga class increase muscle tone and strength in a balanced uniform manner.  Many typical training regimens tend to be more muscle-group specific and less balanced, unless properly planned by a qualified trainer.
These physical benefits easily understood.  There are, however, a number of intangible benefits, those that we don't really "see".  Moving slowly through and around our joints gives us an increased Range Of Motion while at the same time, increasing lubrication of the joints and supporting ligaments and tendons, all of which lead to greater joint stability and a decreased risk of injury. Spinal movements (forward and lateral flexion, extension and rotation) massage the body's internal organs.  This increases blood flow and helps detoxify.
The slow movements into poses, and the holding of poses can greatly increase our kinesthetic awareness, which is an understanding of how we move in time and space, which muscles are engaged and how we are physically aligned, all of which can translate into more effective non-yoga training sets.Yoga also helps us re-learn proper breathing, which is deep, slow and controlled. Most of us are shallow breathers and as such, may be using only 50% of our lung capacity.  Yoga breath focuses on fully engaging the diaphramatic muscles (remember massaging the internal organs?).  Imagine as a runner or cyclist if you could add back that extra lung capacity…
The last benefit I want to point out is, to me by far, the most important one, the emotional/psychological.  My regular yoga participants often hear me say that yoga is a 50 minute warmup for a 10 minute class.  The 10 or so minutes at the end is so important to our well-being.  It offers a vital respite from our always-connected, full on hectic lifestyle.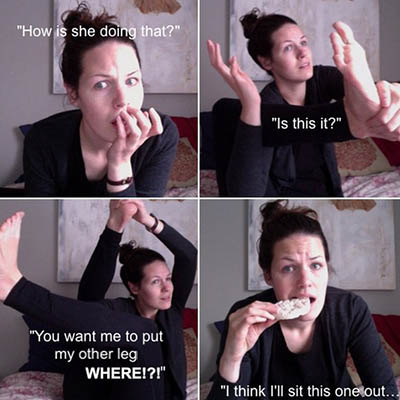 Written By: Larry Rogers
Read Full Bio Here
ACE Certified Personal Trainer
Group Fitness Instructor for MOSSA Group Ride, Group Power and Group Active
Yoga Instructor